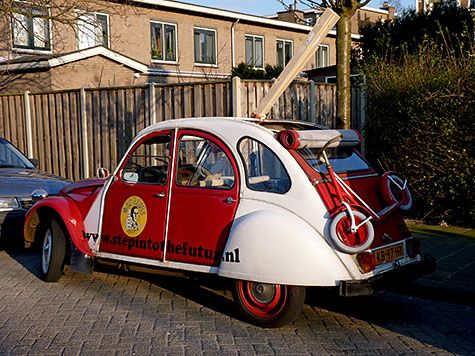 Een stap in de toekomst?
Het lijkt eerder een stap in het verleden: althans, ik kreeg wel nostalgische gedachten toen ik deze prachtige dertig jarige 2CV zag in onze straat.
Opvallend was hij zeker! Die prachtige rode step erachter ook.
Dat hij moest opvallen is ook de bedoeling, toen ik googelde naar het webadres.
Ik citeer van hun pagina:
"Step in to the future is een project, een eyecatcher die mensen motiveert om op een speelse wijze naar uw site te komen.
www.stepinthefuture.nl wordt gewoonweg doorgelinkt naar uw site de periode dat u haar huurt.
Het betreft hier een 30 jarige 2CV (Eend) die nogal opvalt.
Mensen lachen en zwaaien en blijven staan om te kijken."
Een origineel concept!
Please follow and like us: