Dinsdag; voor de zoveelste keer naar de gipskamer.
3 Maanden zit Mirjam al in het gips, en misschien mocht het er af.


Nadat het gips eraf was gehaald, weer naar de rontgen.
Nadat de foto's beoordeeld waren kreeg ze het goede nieuws te horen; het mocht eraf blijven!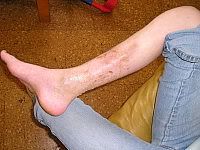 Nog 2 maanden niet gymmen (vindt zij heel erg, not!), sporten en fietsen, en langzamerhand belasten, maar gelukkig eindelijk zonder "harnas" om haar been.
Over 2 maanden weten we of alles goed is hersteld, en of ze dan wel alles weer mag, maar het begin is er!
Please follow and like us: